INDI FILM's co-founders Arek Gielnik and Dietmar Ratsch first met and started working together over 20 years ago when Gielnik was studying Audiovisual Media at the Stuttgart Media University (HBM) and Ratsch following the course of Documentary Direction at the Filmakademie Baden-Württemberg in Ludwigsburg.
"Parallel to our studies, we worked on some short films and realized that we were interested in following similar subject matter for films and so decided to make our graduation film together," Gielnik recalls. The result was the feature documentary ICED LEMONADE FOR HONG LI (2000), a portrait of two different generations in today's Vietnam, with Ratsch directing and Gielnik producing, which was subsequently invited to the Berlinale's Forum section in 2001.
In July of that year, the two decided to set up their joint production company INDI FILM in Ludwigsburg. This was followed by a branch office in Berlin in 2003 where Ratsch is now based along with producer Sonia Otto, who studied Cultural Studies at the Humboldt University in Berlin and Audiovisual Communication at the Universidad de Sevilla. The company's main office is now located in Stuttgart since 2011.
The first production under the INDI FILM label was the SWR commission COUNTRY LOVE (2003) where Ratsch served as director, author and DoP, and many of the production outfit's subsequent productions – such as AFGHANS DON'T FLIRT (2004), JUDGE LIFELONG (2006), and NEUKÖLLN UNLIMITED (2010) – have seen him behind the camera or in the director's chair.
"We see ourselves as having created a special niche for ourselves in the German documentary landscape," Ratsch explains. "Our documentaries have an observational style and are structured dramaturgically in such a way that they meet the demands for a feature-length film."
Looking back over the last 16 years of producing documentaries, Gielnik suggests that there are certain common threads running through the films they have worked on. "If you take films like AFGHANS DON'T FLIRT, LAND IN SIGHT, NEUKÖLLN UNLIMITED or BASTION OF SIN, they all focus on how different cultures are able to live together whether it be in Germany or in other countries, how we can live together with different perspectives on life," he says. "That has always moved us and continues to do so."
"We have also been interested in making political films in the widest sense of the word," Sonia Otto adds, pointing to David Bernet's DEMOCRACY about the political fight for a new data protection law in the EU or currently Evelyn Schels' BODY OF TRUTH accompanying the internationally famous artists Marina Abramovic, Sigalit Landau, Katharina Sieverding and Shirin Neshat on an emotional journey through their biographies addressing such complex topics as power, violence, and sexuality in a very human and sensual way.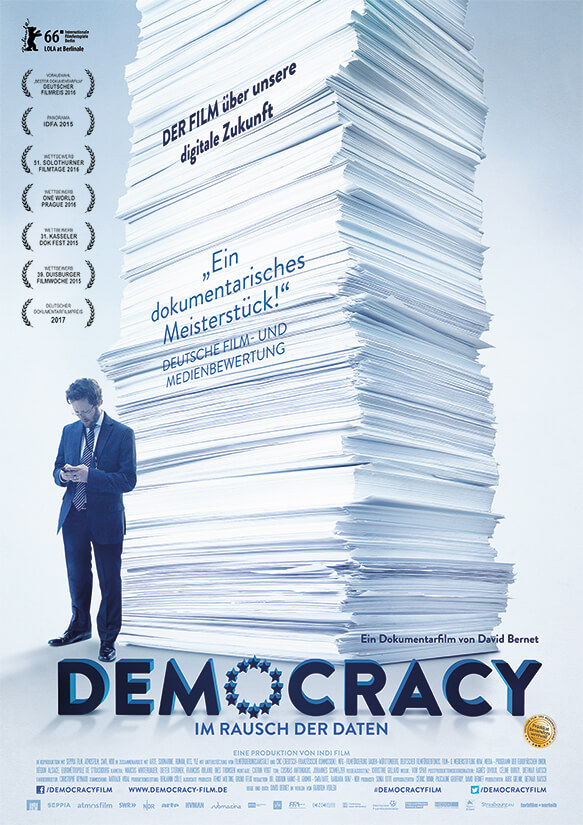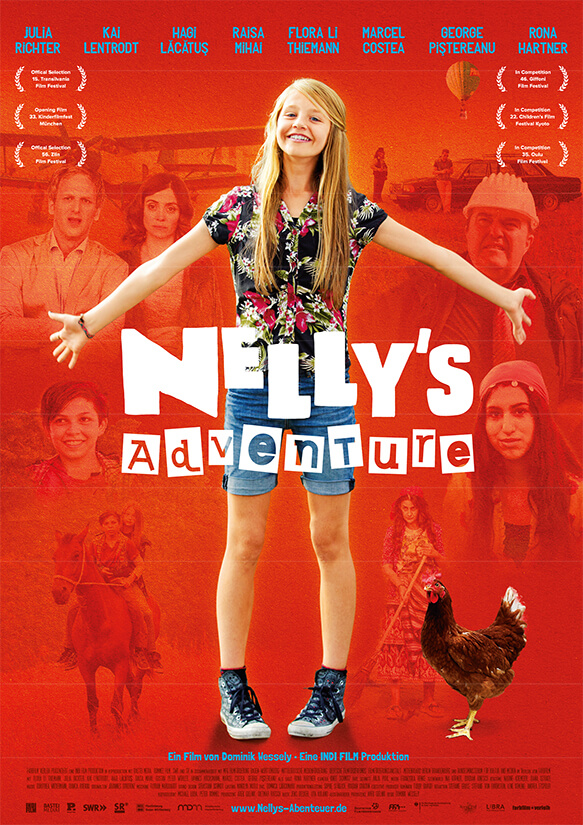 "Many of our films have been regularly shown by the Goethe-Institute, Bundeszentrale für Politische Bildung and other educational institutes," Ratsch notes. "It has always been important for us that our films have a political message and highlight social injustices, but do this in an accessible way."
"David Bernet's DEMOCRACY is a case in point," Gielnik suggests. "We worked on this film for six years and its initial logline was very dry since the film's subject was about the proposed legislation for data protection. That didn't make it easy to finance. But our approach was to reach the audience through emotions by way of its style and the two protagonists. The result was a very emotional film about the work of the EU politicians and lobbyists." DEMOCRACY was nominated for the 2016 German Film Award and won the 2017 German Documentary Award.
"And we attach great importance to the films being character-driven and for the subject matter to be told via the protagonists," Ratsch adds.
From its very beginnings, INDI FILM has had a particular focus on documentaries and this will continue to be the case in the future, but Gielnik, Ratsch and Otto have now also made their first foray into the domain of fiction features with films aimed at young audiences.
"The decision to also make films for children and young people has something to do with our own personal developments," Gielnik explains. "We were both in our early thirties when we set up the company and have since had families."
After producing its first feature, HABIB RHAPSODY by Michael Baumann, INDI FILM's second feature, NELLY'S ADVENTURE, was in development for 7-8 years from the moment that screenwriter Jens Becker brought the project to the company in Stuttgart. Gielnik admits that getting the financing together for an original screenplay was much harder than for the films based on existing bestselling children's books. Directed by Dominik Wessely and premiering in 2016, NELLY'S ADVENTURE centers on 13-year-old Nelly whose holiday in Romania takes a very dramatic turn when she accidentally discovers her family's secret plan to relocate there.
"The resulting film was so rewarding when you see how the children react to the film and see the young audience's enthusiasm. That stays with you and we want to keep on this track." Among other prizes, NELLY'S ADVENTURE was named Best Film at the Giffoni Film Festival and Flora Li Thiemann – who plays the title figure – received the prize for Best Young Actress at the Minsk International Film Festival 'Listapad', while the audience at the Seattle Children's Film Festival voted the film as Audience Favorite and also awarded the Special Jury Prize for Best Ensemble for a Feature Film for Ages 8+.
The company is now preparing its second project for young audiences – LUCY GOES GANGSTA – to be directed by Till Endemann who has co-written the screenplay with Andreas Cordes about a little girl who plans a bank raid. The project received development support from the Special Children's Film initiative, which was set up to promote more original screenplays for young audiences, and has been pitched at various industry events throughout Europe, including CineKid Pro in Amsterdam last autumn where it won the Burny Bos Award. "We had some very positive feedback from foreign producers," Gielnik recalls. "The story isn't seen as being typically German and has more of an international appeal because we are looking at universal truths, at good and bad from a child's perspective."
In fact, co-production has become an increasingly important element of INDI FILM's work with the company either serving as a minority co-producer on third party projects or attracting partners for its own productions. "We started the classic way, working on our own German-based productions, but then the success of a film like NEUKÖLLN UNLIMITED with its Crystal Bear at the Berlinale got us known outside of Germany," Otto says.
Since then, INDI FILM has looked beyond Germany's borders to scout for interesting projects and like-minded partners such as France's SEPPIA (DEMOCRACY, THE CATHEDRAL), Poland's Centrala Film (MONK OF THE SEA), Austria's Mischief Films (GIRLS DON'T FLY), and Switzerland's Mons Veneris Films (#FEMALE PLEASURE) or DokLab (BODY OF TRUTH).
"The pitch of #FEMALE PLEASURE by the director Barbara Miller and the Swiss producer immediately attracted us, we liked their vision," says Gielnik about the portrait of five courageous, smart and self-determined women breaking the silence imposed by their archaic-patriarch societies and religious communities. Miller's film premiered in the Semaine de la Critique in Locarno in August this year where it received the Premio Zonta Club Locarno 2018 for a film with special social commitment, and will have its German premiere at this year's DOK Leipzig.
After the success of DEMOCRACY, INDI FILM is pleased to be working again with David Bernet on the development of his new documentary project SOLIDARITY, a film about the multifaceted present and the secret of solidarity.
While the company is embarking on new collaborations with other members of its "film family" such as Michael Baumann, Dominik Wessely, and Jens Becker, INDI FILM also has two projects in development with Polish partner Centrala whose MONK OF THE SEA had premiered in Locarno two years ago.
Kuba Czekaj's genre mix LIPSTICK ON THE GLASS is described as "a story of sweet desire, promises that seduce like a tender kiss, and of bloody, inescapable revenge", while Munich-based Tomasz Emil Rudzik's tragicomedy BLACK MADONNA centers on a staunch atheist and misanthrope who has grown weary of life until he meets a seemingly life-affirming Polish medical student.
"These projects mark a new chapter in our company's development with larger arthouse crossover projects. We now want to move out of that low-budget bracket of under 2 million euros to higher budgets with greater commercial potential in the future," Gielnik concludes.
Martin Blaney