"It was only four years ago when Peter Kurth played his first major role for the cinema in A HEAVY HEART. This impressive yet equally bitter story of a former boxer struggling with ALS celebrated its world premiere at the Toronto International Film Festival in 2015. There, even The Hollywood Reporter fêted the leading actor's "impressively muscular performance" before Thomas Stuber's directing debut began its victory march around the world. A HEAVY HEART was greeted as enthusiastically in Moscow as in Palm Springs or Thessaloniki – and back home, Kurth received the German Screen Actors Award as well as the German Film Award.
However, Kurth's love for the cinema had already been awakened decades before. He was born in Mecklenburg-Western Pomerania in 1957, and there was a small movie theater in his home town, Goldberg, "I went there every Sunday at 2:30 pm, whether a storm was blow­ing, it was snowing, or the sun was shining," as he recalls. Were the filial impressions gained there influential for his subsequent professional career? "It's impossible to say whether I would have become an actor if there had been a concert hall in our town instead. But at that time, I certainly wanted to become the Captain of Tenkesberg, no matter what," Kurth says with reference to the Hungarian adventure film by Tamás Fejér that he saw "what must have been 12 times" back then.
After school, he went on directly to study acting in Rostock, and found his first engagement in the early 80s at a children's and young people's theater in Magdeburg, from whence, according to Kurth, he worked his way "bit by bit, straight to the top". He was an established member of ensembles in Stendal, Chemnitz, Leipzig and Hamburg before finally arriving at the Maxim-Gorki-Theater in Berlin. Then he followed the theater's artistic director, Armin Petras, to the Schauspiel Stuttgart, where he received the accolade Actor of the Year from theater heute magazine in 2014. It was his own choice to make work for the camera only a secondary matter throughout those years, which is something he "doesn't regret one little bit". Especially as he was able to shine nonetheless with a supporting role in the world success GOOD BYE, LENIN! or numerous episodes of the popular series TATORT, for example, and also in films by Andreas Dresen, Thomas Arslan or Sebastian Schipper.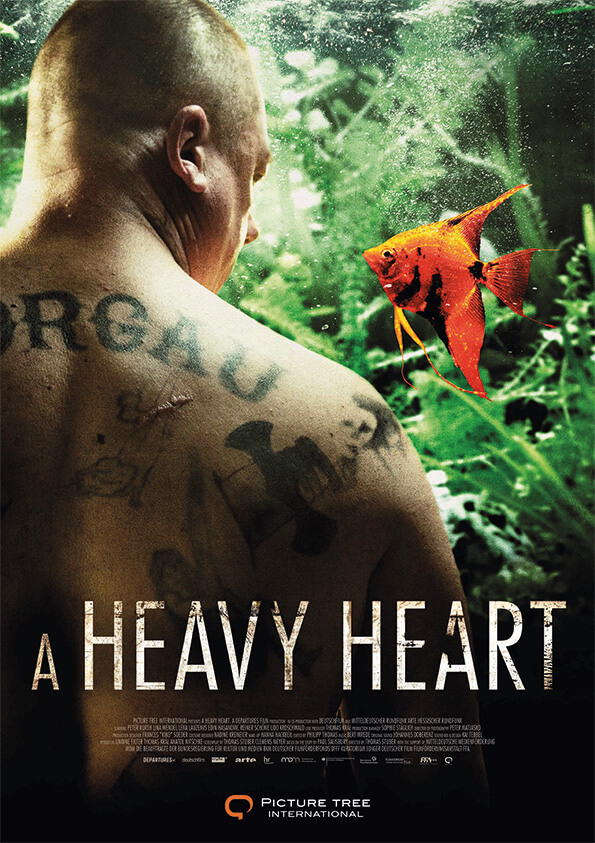 Kurth talks about his leading role in A HEAVY HEART as a huge stroke of luck: "That was the right project at the right time, everything was ideal." When, as in this case, all the conditions are perfect – or as he likes to put it: "are healthy" – he says that "the director and my colleagues will get all I have to give." And besides, he always remains absolutely true to his best companions: like Petras, and Thomas Stuber, with whom he has since made the Berlinale prize-winning IN THE AISLES as well as a not yet broadcast episode of TATORT.
At the same time, the passionate motorcyclist is enjoying to the full all the new opportunities and challenges presented away from the stage in recent years. In the first two seasons of BABYLON BERLIN, for example, he played the slightly dubious Police Commissioner Wolter. This series by Tom Tykwer, Achim von Borries and Henk Handloegten also brought him what has probably been the biggest audience of his career. "Recently, in my favorite pub here in Prenzlauer Berg, I was even spoken to by a bloke from Detroit, who was visiting the city with a friend of his," Kurth says in amazement. He grins to think that the series reaches so many people world-wide. "He almost fainted because I was just sitting there in the pub."
Internationally speaking, he has long since put out more feelers, aside from BABYLON BERLIN (the third season will have to manage without him, anyway). Last year, he could be seen as Botha in SEW THE WINTER TO MY SKIN, an unusual, almost dialogue-free mixture of western and biopic by South African director Jahmil X.T. Qubeka. After a premiere at TIFF, the film represented South Africa in the competition for an Oscar®. The next foreign productions are already waiting this coming summer. His face reveals how much he is looking forward to them: "I would really like to do something completely different for once – and in one of these parts I have been cast totally against the grain."
Patrick Heidmann