"WE are interested in directors who have an unmistakeable filmmaking style," says producer Janine Jackowski who set up Komplizen Film with director Maren Ade in 1999 when they were both students at the University of Television & Film (HFF) in Munich.
"And we focus on producing arthouse films which have a potential to reach a large audience in Germany and internationally," she continues, pointing out that the Berlin and Munich-based company entered a new chapter after the production of Ade's 2009 film EVERYONE ELSE, which was selected for the Berlinale's main competition that year and went on to win two Silver Bears, the Jury Grand Prize and Best Actress honors for Birgit Minichmayr.
"We were traveling a lot to festivals with the film and met up with many producers and filmmakers," Jackowski recalls. It was at the BAFICI film festival in Buenos Aires that Ade and Jackowski saw the films of the Portuguese director Miguel Gomes and indicated that they would be interested in collaborating on his next project. This led to Komplizen Film coming onboard Gomes' TABOO which had its world premiere in Berlin in 2012 where it was awarded the Alfred Bauer Prize and the FIPRESCI International Film Critics Prize.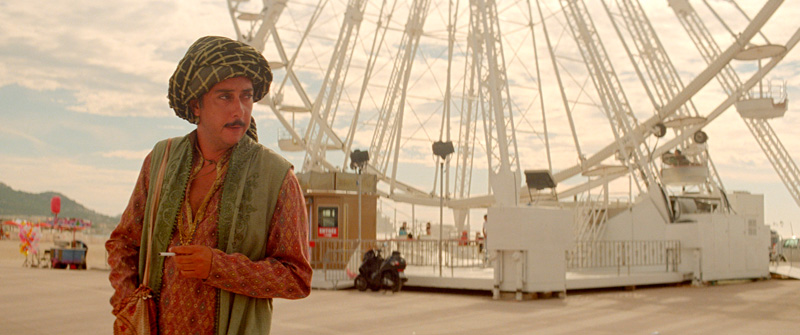 ARABIAN NIGHTS (photo courtesy of The Match Factory)
"WE followed this new direction with the involvement in projects by international directors when we found companies with a similar philosophy and approach to filmmaking," Jackowski explains.
Consequently, a number of long-standing international collaborations have developed over the years: the German production outfit subsequently worked with Gomes and his producer Luís Urbano of O Som e a Fúria on the short REDEMPTION which was shown out of competition in Venice in 2013, and most recently on his new feature ARABIAN NIGHTS which also has France's Shellac Sud and Switzerland's Box Productions as co-producers and is screening in Cannes' Directors' Fortnight.
Another close working relationship has been developed with Austria's coop99 – another production house established by fellow students (at Vienna's Film Academy) in the same year as Komplizen Film. Their first co-production together was coop99 co-founder Barbara Albert's THE DEAD AND THE LIVING which had its premiere at the San Sebastian International Film Festival in 2012 and received three nominations for the Austrian Film Award (winning in the category for sound design).
Last year, the Austrians came onboard Maren Ade's latest feature film TONI ERDMANN, which also marked the beginning of another new working relationship for Komplizen Film with HiFilm's Ada Solomon who handled the film's shoot in Bucharest.
Moreover, coop99 will serve as a co-producer on Valeska Grisebach's WESTERN to be shot on location in Bulgaria this summer — with Boris Chouchkov of The Chouchkov Brothers as a local partner.
"Working internationally meant that we then had the opportunity to access financing from abroad for our projects," says Jackowski who was one of the European Film Promotion's Producers on the Move in Cannes in 2009 and participated in the ACE development workshop in 2012/2013.
"When we are a minority partner in a co-production, this means that these films and directors get to be seen in Germany. And, on the other hand, our majority productions also get to be seen by a wider audience through the co-production partners." As a result of this international network, Komplizen Film attracted foreign partners for its own projects such as the Dutch company Topkapi Film and France's Why Not Productions for Ulrich Köhler's SLEEPING SICKNESS and Switzerland's Vega Film and Austria's Novotny & Novotny Filmproduktion for Benjamin Heisenberg's SUPEREGOS. Moreover, Norwegian producer Maria Ekerhovd of Mer Film and Filmcamp were partners on Sonja Heiss' latest film HEDI SCHNEIDER IS STUCK which had its world premiere in the Berlinale's Forum this February.
Meanwhile, in the other direction, Komplizen Film was a partner on the Uruguayan directors Ana Guevara and Leticia Jorge's 2012 film TANTA AGUA and Bosnian filmmaker Jasmila Zbanic's LOVE ISLAND which had its world premiere on the Piazza Grande in Locarno last summer.
EVERYONE ELSE also marked another milestone in the company's development — the decision to welcome a third partner, Jonas Dornbach, onboard. "I had known Janine and Maren for some time and we had planned to work together before EVERYONE ELSE where I was the line producer," Dornbach recalls. "I first had to wind up my own production company and then joined Komplizen Film in 2010 with the idea of bringing in more new projects and directors." The company's network of contacts was thus further extended thanks to Dornbach's participation in the EAVE producers workshop and the ACE program.
When speaking about the division of labor between the company's three partners, Jackowski points out that when Ade is working on a specific screenplay or shooting a film, her attention is naturally then focused on her own project. "But otherwise, we are all involved together on each project and make the important decisions as a team. Those key questions of how we will finance a project and with which co-producers is something that we decide together."
"Of course, the combination of two producers and a director in the company has its advantages: "Maren can give her perspective on the projects from the vantage point of a director," Jackowski says."This starts with the choice of the projects but also includes working with the filmmaker on the screenplay or at the editing stage. Admittedly, there are some directors who are more receptive to this input than others. Everyone has their own way of working and we just try to always give them the necessary space every individual director and project needs."
Looking at the company's filmography, one might be tempted to think that there is a particular preference for women filmmakers because the co-founders are women. But this hasn't meant that they haven't worked with male directors as shown by the collaborations with Miguel Gomes, Ulrich Köhler and Benjamin Heisenberg.
"There isn't any specific gender discussion involved when making decisions for a project," Jackowski observes. Who we work with and what stories we collaborate on happens naturally, intuitively, based on a shared personal and cinematic interest with the directors and their work."
Indeed, Komplizen Film has consciously sought to recruit its director 'accomplices' into a kind of film family where they go from working on one project together to the next one. "At the moment, we are developing new projects with Sonja Heiss , Benjamin Heisenberg and Vanessa Jopp," Dornbach explains.
In addition, he reveals that they are now working with the Chilean director Sebastián Lelio — who won a Silver Bear at the 2013 Berlinale with GLORIA — on the development of his new project called A FANTASTIC WOMAN.
Martin Blaney