What would Alfons Zitterbacke give to be a great athlete, a super student and an astronaut, just like Alexander Gerst. But that isn't what his world looks like. The 11-year-old stumbles from one mishap to the next. Everyone seems to gang up on him. Unfair teachers, vicious classmates and a very strict father generally make life miserable for him – when out of the clear blue an aircraft competition offers the opportunity to participate in an astronaut camp and Alfons sees his chance: At last he can show the world what a brilliant inventor he is – particularly Emilia, the new girl in class. The only trouble is that Alfons' rival, Nico, also decides to take part in the competition and challenges him to a dual: Are you chicken or what? In his dilemma, Alfons drags his best friend Benni, into the affair, and now there's no way out: They have to win the competition. But how?

ALFONS ZITTERBACKE is an action-packed comedy about friendship, outer space, fathers and sons and the best plans for building rockets.
Director
MARK SCHLICHTER was born in 1962. Initially he studied Acting and worked as an actor in several feature film and theater productions. After working as a unit and production manager on various feature film productions he studied Directing at the German Film and Television Academy (DFFB) in Berlin. In addition to numerous theater productions and short films, his award-winning feature films as a director include: EX (1995), DER AUSBRUCH (1997), SCHIMANSKI – MUTTERTAG (1997), DER ELEFANT IN MEINEM BETT (1999), COWGIRL (2004), TATORT – STRAHLENDE ZUKUNFT (2007), ZORN – VOM LIEBEN UND STERBEN (2015), and ALFONS ZITTERBACKE – THE RETURN OF CHAOS (2019).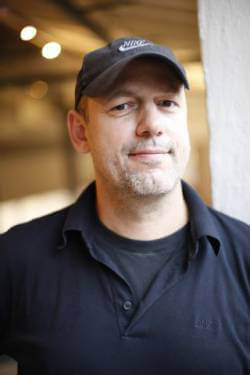 Mark Schlichter photos © X Filme Creative Pool