FACE TO FACE is the title of a campaign by German Films now in its sixth year of presenting key personalities from the German film industry to the international film world.
Since 2016, the series has focused on a different set of German talents in the industry each year. In 2021, for the first time it will be dedicated to creatives from a variety of fields of filmmaking.
The focus is on personalities with very different biographies and artistic approaches. Simone Baumann, Managing Director of German Films, says that "we are proud to continue our FACE TO FACE campaign with a great new group of talents despite the current, difficult conditions."
In its early years, FACE TO FACE concentrated on promoting actors and directors, but in 2020 the spotlight was turned onto writers for the first time, "because without good scripts there are no good films", Simone Baumann adds.
This year German Films is going one step further. "After all, films and series are only made at all because of the work of a large team," the German Films MD points out, "which is why we have decided to present a greater diversity of film professions in 2021." For the first time, therefore, the FACE TO FACE selection also includes a costume designer, a composer, an storyboard artist, and a cinematographer, as well as two directors and two actors.
Here are the FACES 2021: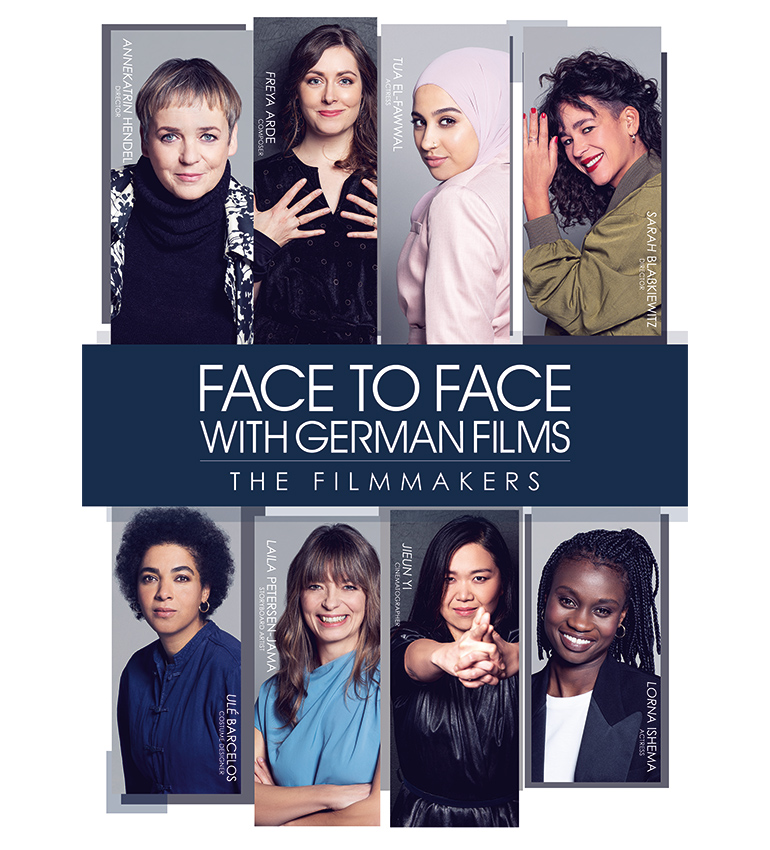 Freya Arde, composer
From a post-apocalyptic horror film with zombies on the rampage to a contemporary documentary, Freya Arde has set many things to music. The award-winning composer, guitarist, and music producer has helped to shape films that celebrated their premieres at festivals such as the Toronto International Film Festival and the Berlinale.
Born in Saxony, she completed her Master's degree in film scoring at Konrad Wolf Film University in Babelsberg. Previously, she also studied at the Conservatory of Music in Dresden and at the Conservatoire National Supérieur de Musique et de Danse in Paris.
Even before she received her degree at Babelsberg, she had completed the music for NELLY'S ADVENTURE (2016, directed by Dominik Wessely), which won her the German Film Music Award as Best Newcomer.
Since then, the Berlinale Talents alumna has received one commission after another, combining acoustic instrumentation with audio processing and electronic elements to create her often buoyant, mystical soundscapes. She has already collaborated with orchestras such as the German Film Orchestra Babelsberg and the Brandenburg State Orchestra Frankfurt/Oder. Freya Arde's most recent major projects include the youth film MY EXTRAORDINARY SUMMER WITH TESS and the adaptation of the cult book by Germany's most popular forester, Peter Wohlleben, THE HIDDEN LIFE OF TREES. She also produced and wrote her first solo EP SPIRIT AWAKE, which was released in 2020.
Ulé Barcelos, costume designer
It is obvious that Ulé Barcelos is not only a costume designer but also an extremely talented illustrator. The viewer can see this from film stills whenever she has designed the costumes. "Dynamite in neon pink" was the phrase used by the renowned German weekly "Die Zeit", for example, in regard to SYSTEM CRASHER, the German Oscar entry for 2020: in the visual language of director Nora Fingscheidt's opus, the bright, often clashing shades of pink in the clothes worn by main character, nine-year-old Benni, played a role all of their own. Wearing them, whether in cold bleak forests or grey cityscapes, she appears as if dabbed onto the screen with paint.
Ulé Barcelos was born in Guinea-Bissau, West Africa. She grew up in Lisbon and has lived in Germany since 2001. She works from Berlin, designs her own fashion, and pursues an intense interest in the theoretical-social aspects of clothing. For example, she investigates how traditional costumes can mark a sense of belonging and exclusion. This is sometimes reflected in a project with schoolchildren – when she is not working on a cinema project, such as her last one NO ONE IS WATCHING THE COWS. Her latest TV project HERREN, a drama fea­ture, premiered on ARTE and Germany's biggest public broadcaster ARD in prime time lately.
Sarah Blaẞkiewitz, director
Sarah Blaßkiewitz was born in Leipzig and grew up in Potsdam. She completed her debut film PRECIOUS IVIE in the summer of 2020. She both wrote and directed this work, which deals with the subject of everyday racism. The main character is the Afro-German Ivie, known as "Schoko". She lives in Leipzig and survives by jobbing until she can take up her permanent position as a teacher. One day, her half-sister appears on the doorstep: Ivie knew nothing about her before then. But the better they get to know each other, the more Ivie questions not only her nickname but also her self-image.
Sarah Blaßkiewitz worked on film productions in the directing and camera departments parallel to her studies in audiovisual media (2006 to 2011). Her graduation film AUF DEM WEG NACH OBEN premiered at the Max-Ophüls Festival, and her short film BLANK was released in 2016 and screened at many festivals. In 2017, she received development funding for her mini-series concept SUPERCREW. Most recently, she directed the final season of the series DRUCK, which premiered in January.
Tua El-Fawwal, actor
Berlin-based actor Tua El-Fawwal was born in Egypt in 1998. At the age of nine, she moved to Germany. After graduating from high school, she was told about a casting call for the series DRUCK. They were looking for an actor who could credibly portray a prize student, feminist, boxer – and Muslim woman who wears a headscarf as a principle of faith. Tua El-Fawwal got the part and won the German Acting Award for Best Newcomer in 2020 for her performance.
In her acceptance speech, she described her experiences as an actor who consistently wears the hijab in private life and criticized the lack of diversity in German film in no uncertain terms. "Becoming an actor with a headscarf is as preposterous as being a long-distance runner with an amputated leg" – was the remark she heard at the first agency where she introduced herself. For nine months she searched for an agent that would represent her and respect her condition that she would not remove her headscarf for any part. Then, the Berliner finally did find the right one.
Annekatrin Hendel, director
After studying design in East Berlin, Annekatrin Hendel initially started working as a costume and set designer. In 2004, she founded "It Works! Medien GmbH" with Hendel as the acting CEO. The company has produced more than 25 feature films and documentaries, such as the award-winning films SPACE DOGS (Locarno 2019), FIVE STARS (Berlinale 2017)… Since 2011, Hendel has been writing and directing her own films, always looking at ambivalent characters without shying away from the dark sides of humanity. Her first documentary, FLAKE, focuses on RAMMSTEIN's keyboard player. She then went on to create a trilogy on betrayal, which includes the documentary ANDERSON about an underground poet and Stasi man (world premiere Berlinale in 2014). Her 2015 documentary FASSBINDER premiered at IDFA. BEAUTY & DECAY, a portrait about the infamous Berghain bouncer Sven Marquardt won the Heiner Carow Award at the Berlinale  2019. Hendel characterizes her background and approach as follows: "The perspective from which the media often view the time in the East does not match what I lived through and observed. I don't know this GDR at all. And it is somehow strange that, for 31 years now, we have had a migration background in our own country." She is currently working on a very personal project: BANISHED TO PARADISE that also deals with a disruptive social event, the first Coronavirus lockdown in Germany. Hendel has been on the board of the German Film Academy since 2018 and is a member of many film funding and festival juries.
Lorna Ishema, actor
Lorna Ishema was born in Uganda and grew up in Hanover. She studied at the Otto Falckenberg School in Munich and was awarded the first scholarship in the field of acting from the "Deutschlandstiftung Integration". While still a student, she was engaged by Luk Perceval for his production of J.M. Coetzee's "Shame" at the Munich Kammerspiele. On television, her role as nurse Maria in Munich's POLIZEIRUF 110 brought her to the attention of a wider audience for the first time in 2012. More television and film roles followed, including collaboration with filmmakers such as Detlev Buck and Doris Dörrie. From 2015 to 2017, Lorna Ishema was an ensemble member at the Deutsches Theater Berlin. Since then she has appeared in many films and series, including BREAKING EVEN, a mix of family drama and business thriller telling the story of a car-manufacturing dynasty. In this, Lorna Ishema plays a lawyer with stoic perseverance and detective instincts. In 2021 she will be seen in Sarah Blaßkiewitz's PRECIOUS IVIE and is currently working on Stephan Lacant's TV series DER ÜBERFALL (WT).
Laila Petersen-Jama, storyboard artist
Animation artist Laila Petersen-Jama was born in Denmark. The 44-year-old spent 2 years of advanced studies, painting, drawing, media design and 2D Animation to apply at the renowned Animation school Viborg, where she was one of the lucky 20 applicants to be accepted.
Her first job took her to a film production company in Munich. Gradually she not only worked as a 2D artist, but started storyboarding for commercials, TV and feature films.
Since 2005, she has worked on feature films and series such as MOON BEAR, LILLIFEE, KNIGHT RUSTY, THE LITTLE DRAGON COCONUT, CAPT'N SHARKY, DREAMTOPIA/BARBIE, PETS UNITED, PETTSON AND FINDUS and JESSY AND NESSY, helping to influence entire generations of children viewers. Most recently, she has been in the process of creating a new children animated series called DIE MUSKELTIERE, a TV series made from the books by Ute Krause, which will be broadcasted on German TV later this year.
Another recent project was the 2020 Christmas special of DIE MUSIFANTEN for the children`s channel KiKA. Its heroes are a 200-year-old retired circus elephant and his grandson, who love to trumpet along to nostalgic hit songs together. An English version of DIE MUSIFANTEN is currently in development.  The project is in the preselection of nominations for the prestigious German TV Award Grimme-Preis. Besides storyboarding for television, she is currently also working in print for the first time, creating her own Wimmelbook, the famous one-of-a-kind picture book brand for kids.
Jieun Yi, cinematographer
Jieun Yi was born in a small village in Danyang, South Korea. She began writing poetry and also painting as a child. As a teenager, she was already receiving awards for her work. At the age of 22, she says, a love of film brought her to Berlin, where she has lived since 2006. After briefly studying philosophy and several internships in film, she switched to the cinematography program at Babelsberg's Konrad Wolf Film University in 2009. In 2015, she graduated with distinction: her diploma film is entitled LOOPING. She has been responsible for the cinematography of various films that have won prizes at numerous festivals. At the German Film Awards 2020, she was nominated for Best Cinematography and for the German Camera Award in the Feature Film category for O BEAUTIFUL NIGHT. She collaborates often with director Xaver Böhm and especially closely with director Leonie Krippendorff. Jieun Yi has an unmistakable signature, which emerges in many night scenes with a very specific, metropolitan chromaticity in the light reflections. Her latest project promises to be the ideal creative playground for this style: the title is simply LAS VEGAS. Sunny, a crazy and daring travesty artist, is determined to marry his new love – fashion designer Tristan. But it seems Tristan's plans are quite different.
Susanne Hermanski