Face to Face – German Talent in the Spotlight
The faces of German film are by no means just the actors in front of the camera or the directors and screenwriters behind it. They are also the talented filmmakers in other trades, as German Films has been showing since last year by featuring the FACE TO FACE campaign launched in 2016, which functions as an annual platform creating international visibility for German film talent.
Having already focused intentionally on a wider range and diversity of German filmmaking in 2021, German Films is now building on this idea in 2022 – and presenting seven creatives who are impressive representatives of the growing diversity in the domestic industry.
The FACES 2022 are united by their passion for the medium and a desire to help shape the German film industry as it moves into a new era. All the participants will therefore be contributing their own unique perspectives and motivations: from the need for adequate representation and inclusion, the desire for equal opportunities to efforts to produce high-quality, up-to-date entertainment. "The way to achieve this is also to a large extent through content – with films and series from Germany that reveal the potential that has gone untapped far too often in recent decades, while at the same time captivating viewers," says German Films' Managing Director Simone Baumann. "It is a great honour to welcome seven talented filmmakers as ambassadors for our campaign this year. Their works address issues as diverse as their professional backgrounds and personal stories. Year after year, our focus on FACES demonstrates what Germany has to offer in terms of film and series and where the journey may still lead," Baumann continues.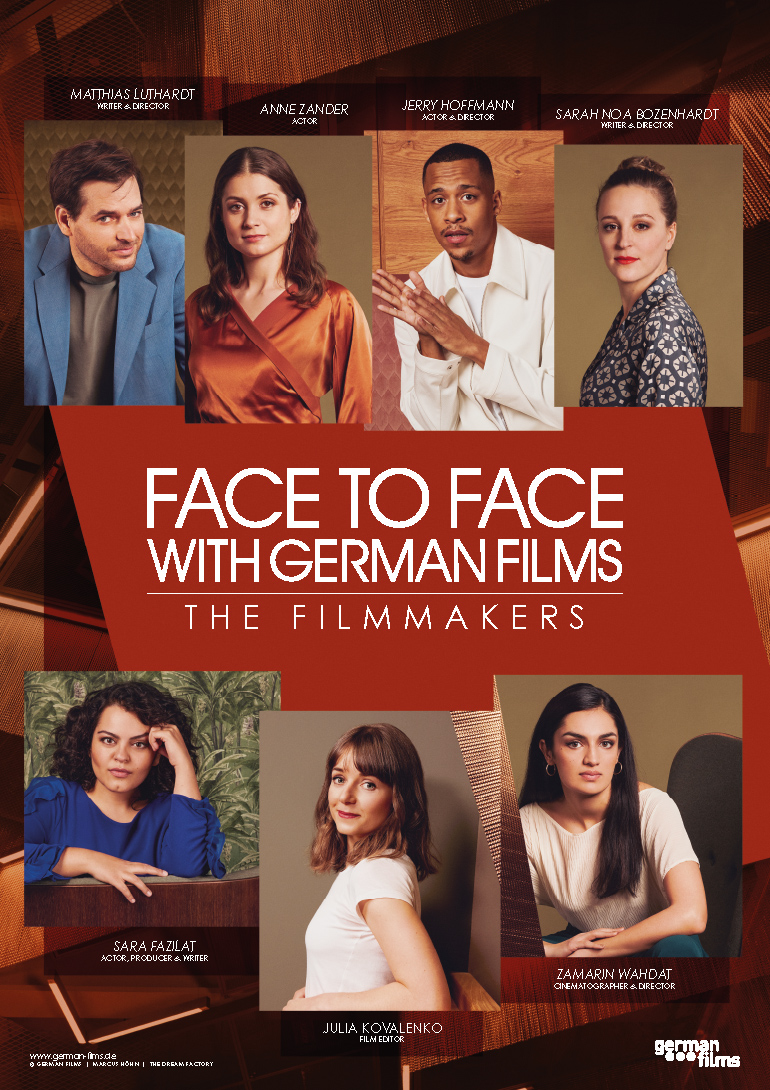 Sarah Noa Bozenhardt
(Writer & Director)
Sarah Noa Bozenhardt was born in Freiburg. She was only 12 years old when she moved with her fami­ly to the Ethiopian capital Addis Ababa. To this day, that time continues to influence her life and career, and relationships the author and director forged in her second homeland are reflected in her documentary work.
Bozenhardt first studied at Emily Carr University of Art + Design in Vancouver, where she graduated with honours from the Bachelor's programme in Film, Video & Integrated Media with the documentary short MEDANIT. Since 2016 she has been studying documentary directing in the Master's programme at the renowned Filmuniversity Babelsberg KONRAD WOLF in Potsdam.
In her documentary works, Bozenhardt often deals with socio-political themes of womanhood. Her short film MEDANIT (2015) explores the reciprocal relationship between a blind single mother and her daughter. Her feature-length film AMONG US WOMEN, co-directed with Daniel Abate Tilahun – and also her graduation film, follows changes in midwifery and the story of a community of women in the Ethiopian village of Megendi. The ambitious project celebrated its world premiere at DOK Leipzig 2021, where it received a special mention in the international competition.
Sara Fazilat
(Actor, Producer & Writer)
After graduating from high school in Bremen, Sara Fazilat attended the Royal Academy of Dramatic Art and the Guildhall School of Music and Drama in London before beginning to study film production at the DFFB in Berlin in 2012. This was followed by a scholarship to Columbia University in New York.
As an actor, she has not only appeared on a wide variety of theatre stages, but has also appeared in front of the cameras for various TV and cinema productions. In 2017, she participated in the Berlinale Talents programme. She took the leading role in her own graduation film NICO, for which she was also the producer and a co-writer. The film, which tells the story of how a racist attack changes the life of a young woman, had its international premiere at Shanghai International Film Festival and was subsequently shown at festivals in San Francisco, Oslo, Sydney and Cambridge. Among the awards Fazilat received for NICO are the Max Ophüls Prize (as an actor) and the First Steps Award (as a producer).
In 2022, she is not only invited to Rotterdam Lab, but will also be seen in the new films by Michael Bully Herbig or Un Certain Regard winner Ali Abbasi, among others. In addition, she is writing another feature film as well as her first series.
Jerry Hoffmann
(Director & Actor)
At the age of only 18, Jerry Hoffmann played his first leading role in Burhan Qurbani's SHAHADA, which was invited to the Berlinale competition. After this, he studied acting at the Otto Falckenberg School in Munich and Berlin University of the Arts, and became an ensemble member at the Maxim Gorki Theater. He has appeared in leading roles in cinema films such as HEIL and ABIKALYPSE, and also starred in the award-winning Swiss film NEEDLE PARK BABY. In 2022 we will be able to see him in the Turkish Netflix series A SUBMARINE STORY.
Since 2015, the native of Hamburg has also been more and more active behind the camera, studying Film & Television Production at Loyola Marymount University in Los Angeles on a Fulbright scholarship. This was followed by a Master's degree in film direction at Hamburg Media School, from which he graduated with the highly acclaimed short film, I AM. The science-fiction arthouse thriller premiered at the 42nd Max Ophüls Prize Film Festival, was presented at the 55th Karlovy Vary International Film Festival, and was nominated for the First Steps Award. In addition, I AM was nominated for the Student Academy Awards in 2021 and received the HBOMax Best Short Film Award at St. Martha Vineyard African American Film Festival.
Julia Kovalenko
(Film Editor)
Julia Kovalenko came to Germany from Kazakhstan with her family at the age of almost nine. Straight after graduating from high school, she started her first job in the editing department of the Düsseldorf production company Capture MM and discovered her fascination for the profession. At the University of Applied Sciences in Dortmund, she initially studied Design Media Communication with a focus on film before switching to the Film Academy Baden-Württemberg to hone her skills. As a scholarship holder of the Baden-Württemberg Foundation, she was given the opportunity to participate in the Hollywood Extension Workshop at UCLA in 2015. She completed her education with a diploma in editing/montage in 2016.
Since then, the editor has proven just how well she knows her craft, not only with short films such as Jerry Hoffmann's award-winning I AM, but also with a number of cinema and television productions. In 2019, Kovalenko celebrated her greatest success so far with SYSTEM CRASHER by Nora Fingscheidt, for which she and Stephan Bechinger were co-editors. The two received the German Film Award and the Günter Rohrbach Film Award for this critically acclaimed, unexpected success. Most recently, she has worked with director Thomas Stuber and fellow editor Kaya Ina on the series HAUSEN as well as the episodic film DARK SATELLITES, which will be released in 2022.
Matthias Luthardt
(Director & Writer)
Born in the Netherlands and raised in various places in Germany, Matthias Luthardt discovered his love for France and European cinema during a six-month stay in Lyon. As a literature student in Tübingen, he made friends with filmmakers, and together with them he soon tried his hand at his own first shorts. After finishing his master's thesis on the films of Krzysztof Kieslowski, he decided to become a director himself. He went on to study directing at the Konrad Wolf Academy of Film and Television in Potsdam, during which he participated in the Atelier Ludwigsburg-Paris, an advanced training year for young European film producers.
Luthardt's graduation and debut film, PING PONG, celebrated its world premiere at the Semaine de la Critique in Cannes in 2006. The coming-of-age drama received awards, not only there but also at the Munich Film Festival, Karlovy Vary and Giffoni, as well as being nominated for the First Steps Award and the Fassbinder Prize of the European Film Academy. Subsequently, the passionate soccer player, who also passes on his knowledge to young filmmakers as a lecturer, directed the feature film DER TAG, AN DEM ICH MEINEN TOTEN MANN TRAF as well as various documentary productions. His new film THE FOX, a German-French co-production, is scheduled for release in 2022.
Zamarin Wahdat
(Cinematographer & Director)
Cinematographer and director Zamarin Wahdat was born in Kabul and grew up in Hamburg. In view of the lack of prospects on the German film scene, first she moved to England to study for her bachelor's degree at Brighton School of Media, Film and Music at the University of Sussex. This was followed by a master's degree in image design and screenwriting at the Tisch School of New York University, where she learned all the facets of filmmaking, from editing to directing and camera work. As part of her professor Carol Dysinger's team, she collaborated on the latter's film LEARNING TO SKATEBOARD IN A WARZONE (IF YOU'RE A GIRL), which won the Academy Award for Best Documentary Short in 2020.
That same year, Wahdat won Best International Short Film at the Sundance International Film Festival for her directorial debut, BAMBIRAK, which tells a father-daughter story set against the backdrop of everyday German racism. Wahdat, who is a member of the International Collective of Female Cinematographers (ICFC) and has been selected for the American Society of Cinematographers' Vision Mentorship Program 2020/21, is currently working on a feature-length version of BAMBIRAK as well as a documentary about young activist Sarah Mardini.
Anne Zander
(Actor)
Born in Berlin, Anne Zander enjoyed the performing arts from an early age, which eventually led to her desire to work in acting. Training at a Berlin drama school was followed by a study of digital media culture at the Film University Babelsberg KONRAD WOLF and her first practical experience in film production. As a deaf person, her own experiences in professional and private everyday life have also led her to be especially committed to more diversity and inclusion in the German film and media industry.
After various theatre engagements and roles in the series AUS DEM TAGEBUCH EINES UBERFAHRERS and the feature film FENSTER BLAU, Zander will be appearing in two major productions in 2022. In the ZDF drama DU SOLLST HÖREN, she will take her first leading role as a deaf mother alongside Claudia Michelsen and Kai Wiesinger – performing for the first time in sign language throughout the film. In addition, the avid roller derby skater, who has already competed in European competitions, is also appearing on camera for Barbara Ott in the Netflix film FOR JOJO.
Patrick Heidmann